How To Cure A Molcajete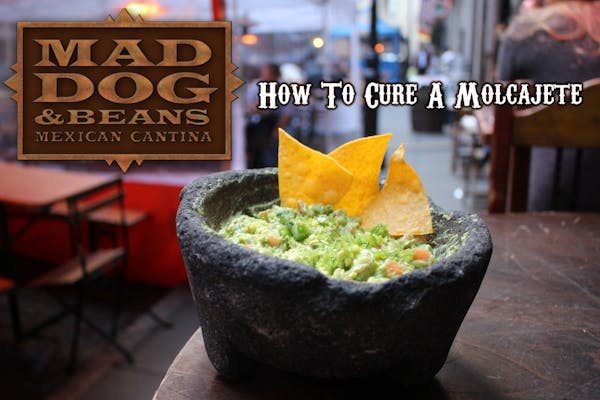 Many countries, primarily in Mexico use the mortar and pestle (also known as molcajete) to grind up spices for salsas, sauces or marinades. The molcajete is the perfect tool to have in your kitchen when you want to make your own guacamole! Once you purchase your molcajete, we know you'll probably be excited to get your hands dirty and begin using it, but there are a few steps to take to get the best results.
1. Before using your molcajete, make sure you read any information that may have accompanied it. Many molcajete's are made from volcanic or basalt rock, but there are a few made from other materials which do not need to be cured or seasoned. Some molcajetes may have already been cured before purchasing so you can skip the seasoning process and begin to use it.
After concluding that your molcajete is brand new, there are a few tasks you need to complete before making your salsa or guacamole so you don't end up with rocks in your food or mouth.
2. The first step in curing is to rinse your molcajete with water. Do not use soap or soapy water, since the molcajete is made out of porous volcanic rock, the taste and scent of the soup will get trapped in the tiny holes and leak a soapy taste in your food. Rinse your molcajete several times until you see a reduction in debris.
3. Grind it Up! Grab a small handful of white rice and place it in your molcajete with a tablespoon of water. White rice is the best option so you can spot how much debris needs to be removed. Grasp the pestle in one hand and begin to grind the rice in a circular motion around the entire molcajete. The grinding pulls the dirt and small debris that has been trapped in the pours of the rock so continue grinding until you end with a grey colored paste.
4. The first grind is over, now it's time to rinse and repeat! This is definitely not the best part of owning a molcajete but all of this hard work is worth it once you're done. Clean out the grey paste and repeat the whole process until the rice is no longer grey and remains white. The number of rinse and repeats you'd have to do depends on your molcajete, for some people it can take a few repetitions and for others it took 6-7 so be patient and take a few breaks when needed.
5. Your molcajete and seasoned and ready to go! Treat yourself by making some fresh guacamole. Just make sure you know how to pick the right avocados!
Grab some chips and celebrate your hard work, you deserve it!
AUGUST 17, 2017